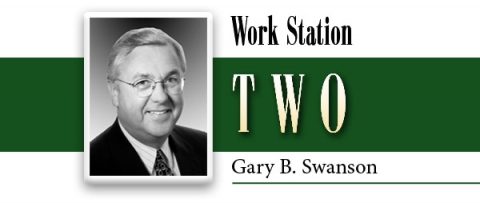 ​
God's Loyalty Program
The offer arrives among all the other similar, direct-mail stuff that clutters up the postal box: "Earn a $200 gift card and experience all the amazing advantages of a new line of credit." All that is required is to sign the form inside the envelope and return it—postage-paid. And in a few short days, the newly minted credit card, embossed in distinct lettering with your name and ready for immediate use, arrives in a beautifully designed package of materials that outline the exhilarating benefits of its full utilization.
There are many variations on what may be offered in this kind of proposition. It could be an invitation to switch cable or utility companies, an opportunity to sign up for a frequent-flier program, an inducement to discount plans for a line of retail stores or restaurants. And, of course, such offers have gone digital as well; they may arrive, unbidden, in the inbox with an urgent appeal to respond before an imminent deadline.
All of these are part of what economists call "loyalty marketing" or "loyalty programs." In general, this approach is an effort to foster in consumers a relationship with commerce that goes beyond the mere purchase of goods and services. It offers incentives intended to encourage growth and retention of existing customers.
The roots of this concept of loyalty marketing are traced as far back as 1793, when a U.S. merchant began to give to customers copper tokens that could be returned for merchandise. And from that there have been premiums, box tops, stamps, trading cards, and prizes, all of which could be redeemed in some way for something of value or had some inherent worth of their own.
Anyone remember Cracker Jacks® with "a prize in every box"? This enticement has run continuously since 1912. And Kellogg was the first company to offer prizes in cereal boxes.
Most loyalty programs, however, feature some aspect of redemption, the idea of accumulating something that can be exchanged—redeemed—for something of value. So in today's secular world, the words redeemed and redemption have come to connote something earned or purchased by the consumer. Through her purchase of previous airfare tickets from an airline, Carol Customer redeems an award for a flight to Hawaii. By faithfully—loyally—buying groceries at a supermarket chain, Sheldon Shopper earns discounts in the purchase of fuel for his car.
And the popularity of such loyalty programs may be one of the more current, but significant, reasons that the biblical concept of the "plan of redemption" is so often misunderstood in today's culture. The idea that salvation is unearned, that it is not the result of amassing some form of credit, is at least alien to many and even repulsive to others.
Even the people of Jesus' time and culture generally could not imagine that they could be saved by anything but their own good works, and some were so resistant to the idea that they crucified Him. To this day, there is still the idea that anything of value must be earned. One former eloquent spokesperson for the neoatheists, now deceased, asserted that the idea of substitutionary death was repugnant to the human idea of justice. (Which, of course, it is.) But thankfully the ultimate justice, that which will be executed at the end of the Great Controversy, is not based on human concepts. It is a divine principle. It is an attribute of God's unfathomable character.
And this justice is in essence an expression of love. "'God so loved the world that he gave his one and only Son, that whoever believes in him shall not perish but have eternal life'" (John 3:16, NIV).
God's justice in the redemption of humanity is just as simple—and just as profound—as that. At the very center of salvation is sheer belief. Aside from that there isn't anything that humankind can do to save themselves, though many failed alternatives have been offered. "All human efforts at solving this predicament [the consequences of sin] have proven unsuccessful," writes Miroslav Kiš, "whether through education (Plato), self-discipline (Buddhism), liberation of the working class (Marx), or through striving for the authenticity of the 'man come of age' (humanism). All have proven incapable of changing the cause of evil: human sinfulness and sin. No human sacrifice can atone for the transgression or remove the guilt that destroys the inner harmony of the human soul."1
At the end of time, when each individual is called to account for his or her life, there will come the inevitable conclusion that "all have sinned and fall short of the glory of God" (Rom. 3:23, NKJV). But the ultimate verdict will depend on acceptance of an act of grace that could be performed by only God Himself. "Christ would take upon Himself the guilt and shame of sin—sin so offensive to a holy God that it must separate the Father and His Son. Christ would reach to the depths of misery to rescue the ruined race."2
And this is what is so astonishing about the eternal hope.
"He was a born loser . . ." This is the first line of a poem entitled "Conversion," by Luci Shaw, in which she describes a hapless everyman who, in street language, could never seem to get a break:
"He was the kind
who ended up behind a post
in almost any
auditorium."3
But then the surprising conclusion of the poem portrays a dramatic and unexpected life reversal for the man:
"So it was a real shocker
when he found himself
elected, chosen by Grace
for Salvation, felt
the exhilaration of
an undeserved and wholly
unexpected joy
and tasted, for the
first time, the Glory
of being on
the winning side."4
This amazing reversal of the utter despair of the human condition is available to all. "The Lord is not slack concerning His promise, as some count slackness, but is longsuffering toward us, not willing that any should perish" (2 Peter 3:9, NKJV, italics supplied).
God's loyalty program has nothing to do with amassed points, earned credits, or redeemed awards. With Him, loyalty is a matter of relationship. And through this relationship may be enjoyed "the exhilaration of an undeserved and wholly unexpected joy"!
NOTES AND REFERENCES
1. Miroslav Kiš, "Christian Lifestyle and Behavior," in Raoul Dederen, ed., Handbook of Seventh-day Adventist Theology (Hagerstown, Md.: Review and Herald Publ. Assn., 2000), p. 681.
2. Patriarchs and Prophets, p. 63.
3. Lucy Shaw, The Sighting (Wheaton, Ill.: Harold Shaw Publishers, 1981), p. 87.
4. Ibid, pp. 87, 88.