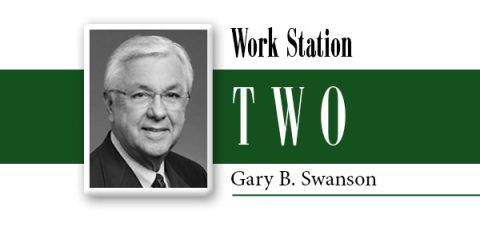 Words of Poetry and Truth
Among the cover illustrations of the Sabbath school Adult Bible Study Guide, one of my personal favorites is that of the apostle Paul for the third quarter 2010 issue entitled, Redemption in Romans. Referring to his Epistle to the Romans, the sixth book in the New Testament, the introduction of this quarterly says, "This book has played a key role in the history of Christian thought."1
The full-color cover illustration depicts an aged Paul, sitting at a desk, an apparent stylus of some kind in his large and gnarled hand, scroll lying open before him. Gray-bearded and balding, his head is half-covered by a kind of hood. He is gazing with clear eyes slightly upward and to his left, looking as if he's searching for a word to express one of the profound thoughts that inspiration has brought to him at the moment.
There has been some discussion through the centuries since of the nature of that inspiration—and that of other writers of the Old and New Testaments. How literally should a single word or phrase be taken? "It is not the words of the Bible that are inspired," writes Ellen G. White, "but the men that were inspired. Inspiration acts not on the man's words or his expressions but on the man himself, who, under the influence of the Holy Ghost, is imbued with thoughts. But the words receive the impress of the individual mind."2
So, the words and phrases in the letter to the Romans, so many of them memorable, came out of the mind of an educated, eloquent scholar of the Scripture of his time, those books that today make up the Old Testament.
It would seem that this scholar, the apostle Paul, was an inveterate letter-writer. His epistles make up a major portion of the New Testament, addressed to individuals and to Christian churches that he himself had raised in his far-reaching and heroic missionary journeys. Corinth, Thessalonika, Ephesus, Galatia, Philippi, Colossae, and even the city of Rome, the center of the known world of his time—congregations in each received letters of counsel and encouragement as they struggled with the hostile interface with the cultures in which they lived.
Because of the nature of his often strongly worded counsel to these churches, the tone is generally instructional in nature. But sometimes, in an effort to send real reassurance, he could be poetic in his praise to God. And one of the most memorable expressions of this is found in his letter to the Romans:
"For I am convinced
that neither death nor life,
neither angels nor demons,
neither the present nor the future,
nor any powers,
neither height nor depth,
nor anything else in all creation,
will be able to separate us
from the love of God
that is in Christ Jesus our Lord" (8:38, 39, NIV).
How can these stirring words be placed on a page without presenting them in the form of verse? "Powerful words," writes Madeleine L'Engle. "Words of high poetry and truth. Words to hold on to."3
Some scholarship has concluded that Paul may have actually dictated some or all of this Epistle. Toward the end of the letter to the Romans, he sends greetings from his friends, including "Tertius, who wrote this epistle" (Rom. 16:22, NKJV). But this in no way suggests that it reflects anyone else's words but those of Paul himself.
Paul's Epistle to the Romans has been said to be his "fullest and most definitive statement on salvation, faith, and the grace of Christ."4 As such it is a solid and profound defense argument, drawing on the best of scholarship and rhetoric of his time, from an eminently educated man. In its mode of composition, it has all the qualities of today's doctoral thesis.
Such an approach was entirely typical of Paul's style. In a letter to Timothy, he asserted, fact by fact, evidence to support his argument that "without controversy great is the mystery of godliness:
God was manifested in the flesh,
Justified in the Spirit,
Seen by angels,
Preached among the Gentiles,
Believed on in the world,
Received up in glory" (1 Tim. 3:16, NKJV).
If ever there were the place for a bulleted list, this would surely be it.
Yet, in the approximate middle of the letter to the Romans, the apostle waxed poetic. Barclay has said that Romans 8:31–39 "is one of the most lyrical passages Paul ever wrote."5 Here, midway through his overall message of exhortation and instruction, he lapses almost extatically into heart-felt verse.
To express the inexpressible assurance of God's love for humankind, Paul reached into the furthest frontier of his imagination. This is a field that is far beyond mere definition or explanation, such as the doctrinal issues that he addressed throughout the rest of the, well, "prosaic" letter to the Romans.
 How do you, after all, tell someone of God's astonishing love? How can you know, with any kind of certainty, that in a world of evil, all is not hopelessly lost?
"I am convinced," he wrote, interestingly using a term of argument, "that . . . neither the present nor the future, . . . neither height nor depth, . . . will be able to separate us from the love of God" (Rom. 8:38, 39, NIV). Nothing in any of the three dimensions known to human thought—or beyond—can disconnect us from God. This connection is not a mere matter of the physical, temporal, or dimensional. It is spiritual. And the assurance of this is made possible through our relationship with "Christ Jesus our Lord" (vs. 39, NIV).
"We are more than conquerors through him who loved us" (vs. 37, NIV).
NOTES AND REFERENCES
1. Redemption in Romans, Adult Sabbath School Bible Study Guide, General Conference of Seventh-day Adventists (July–September 2010): 3.
2. Selected Messages, 1:21.
3. Madeleine L'Engle, Sold Into Egypt: Journeys Into Human Being (New York: Convergent, 1989), 208.
4. Andrews Study Bible (Berrien Springs, Mich.: Andrews University Press, 2010), 1,466.
5. William Barclay, The Letter to the Romans (Philadelphia: The Westminster Press, 1975), 115.