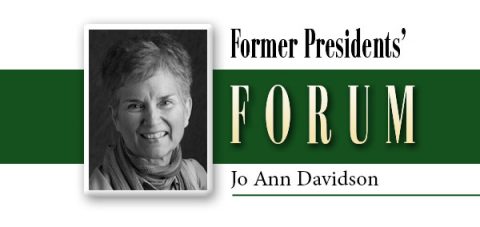 Love the Law? Really?
Much of Christianity has accepted the position that the Decalogue was done away with, "nailed to the Cross" with the crucifixion of Jesus. This perspective results in many Christians declaring that they now live under grace.
Seventh-day Adventists have not gone that way. Instead, they believe that God's law is eternal and cannot be done away with. What is more, though not often discussed, there is no need for grace if there were no Law! But here, I want to talk about something else regarding God's law that I myself have been slow to grasp.
It all started when our family was in Israel a while back. We were being driven by taxi from the Tel Aviv airport, and as we approached Jerusalem, we saw a large group of Israelis celebrating in Independence Park. When we asked the driver what was happening, he told us that that night was the festival Simchat Torah (meaning "the joy of the Law"). It happened to be the last day of the Feast of Tabernacles, when the giving of the Law is celebrated. And in the Jewish tradition this is done every year!
I remember thinking: Celebrate the giving of the Law? Oh yes, I believe in the eternal nature of the Law and its importance in defining obedience. But I had never thought of celebrating that.
Following that mindbender, later when I was again reading through Scripture and came to the Book of Psalms, I began with the opening psalm, of course. And then it struck me that the entire collection of 150 psalms opened with a beatitude! The very next verse then linked that blessing to the Law. Seeing this brought to my mind that experience in Israel:
"Blessed is the man
Who walks not in the counsel of the ungodly,
Nor stands in the path of sinners,
Nor sits in the seat of the scornful;
But his delight is in the law of the Lord,
And in His law he meditates day and night" (Ps. 1:1, 2, NKJV, italics supplied).*
As I continued reading through Israel's ancient hymnbook, I found the same sentiment many times—something I had never noticed before. Several times it is found in the psalter's longest hymn—the longest chapter in the entire Bible, Psalm 119. This psalm even opens with two beatitudes, and then continues:
"Blessed are the undefiled in the way,
Who walk in the law of the Lord!
Blessed are those who keep His testimonies,
Who seek Him with the whole heart! . . .
I have rejoiced in the way of Your testimonies,
As much as in all riches.
I will meditate on Your precepts,
And contemplate Your ways.
I will delight myself in Your statutes;
I will not forget Your word. . . .
Open my eyes, that I may see
Wondrous things from Your law. . . .
Your testimonies also are my delight
And my counselors. . . .
Make me walk in the path of Your commandments
For I delight in it. . . .
And I will delight myself in Your commandments
Which I love.
My hands also I will lift up to Your commandments,
Which I love,
And I will meditate on Your statutes. . . .
Oh, how I love Your law!
It is my meditation all the day" (119:1, 2, 14–16, 18, 24, 35, 47, 48, 97, italics supplied).
And there are more of these same sentiments in this lengthy chapter—all which got me thinking that Seventh-day Adventists have several hymns in their church hymnbook about the importance of obeying God, but not one hymn praising God for the Law—or celebrating it, let alone delighting in it.
Yes, Christian hymnody has a few hymns about obeying God's law, but never couched in a sentiment of delight. Yet the Old Testament psalmist's supreme delight was in God's Law! Even when waking up during the night, reflecting on the Law came to his mind—and this brought joy! It suddenly startled me that I must be missing something that the psalmist had obviously experienced.
Supposedly, thinking about laws is a task for lawyers. They spend their lives and professional work studying and comparing laws and law codes. For most other people, thinking about law is not necessarily a positive activity, let alone one bringing joy. But the ancient psalmist insisted that true delight comes from being immersed in God's law. I became convicted that I needed to open my thinking to the glorious nature of divine law and the blessing the Lawgiver intended it to be.
We like to call God "Father." Thus, why should it surprise us when He acts like a Father, wanting to protect His earthly family and His property (the created world) from grave dangers that would cause harm—seeking to protect us from the "roaring lion" (1 Peter 5:8)? Knowing this alone should bring joy. The Law is not restrictive. It is not a burden, not a straitjacket that must be worn to be saved. In fact, if we would truly face our sinful natures, we would have to admit that even our outward conformity to the Law is defective.
The divine law code is intended to be protective of life, of all creation; it can bring us to yearn for forgiveness and fellowship with the great Lawgiver—who is also our Savior. As it opens, the first words of the Decalogue declare that salvation comes first and then comes with the Decalogue, which can protect us from sin's deadly curse. This sequence is vital: "God spoke all these words, saying: 'I am the Lord your God, who brought you out of the land of Egypt, out of the house of bondage'" (italics in the original). Only after this declaration comes "'You shall have no other gods before Me'" (Ex. 20:1–3). In fact, modern Israeli presentations of the Decalogue put what Christians call the "prologue" (the introductory words of God describing His salvific actions) as part of the first commandment rather than a separate opening prologue.
The Lawgiver still ever pleads: "'See, I have set before you today life and good, death and evil, in that I command you today to love the Lord your God, to walk in His ways, and to keep His commandments, His statutes, and His judgments, that you may live and multiply; . . . therefore choose life, that both you and your descendants may live; that you may love the Lord your God, that you may obey His voice, and that you may cling to Him, for He is your life and the length of your days'" (Deut. 30:15, 16, 19, 20, italics supplied).
This should cause us to add our adoration to that of the ancient psalmist: "Oh, how I love your Law!" (Ps. 119:97).
* Unless otherwise noted, all Scripture references in this column are quoted from the New King James Version of the Bible.