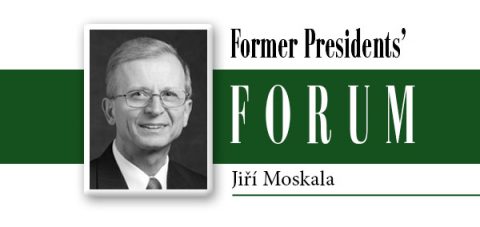 In the Heavenly Places
In the Epistle to the Ephesians, the apostle Paul spoke five times about the "heavenly places." It is a unique expression, translated from a Greek word that occurs in Scripture only in this letter (1:3, 20; 2:6; 3:10; 6:12).
1. The first occurrence of this particular expression is in chapter 1, verse 3: "Blessed be the God and Father of our Lord Jesus Christ, who has blessed us in Christ with every spiritual blessing in the heavenly places."1 The meaning of this term is rather general, i.e., heaven, the celestial realm, in contrast to earthly realities. God bestows upon His people His blessings from above, from His place of residence (Eph. 6:9; James 1:17). God has blessed His people, and this blessing is described in James 1:4 to 14, because they are united with Christ.
2. The second appearance of this word is more specific, namely in Ephesians 1:20. Jesus Christ, after His death and resurrection, ascended to the heavenly places, which is defined as sitting at the right side of the heavenly Father: "he worked in Christ when he raised him from the dead and seated him at his right hand in the heavenly places." Believers have a living Savior who is their Intercessor in heaven (Rom, 8:34; Heb. 7:25, 26) as well as their King (Rev. 17:14; 19:16). He is with the Father, sitting at His right hand in a position of power, honor, and authority, and it is evident that heavenly places are where God dwells. Specifically, here in mind is God's throne where Christ is sitting with Him to rule (Ps. 110:1, 5; Dan. 7:9, 10; Matt 26:64; Acts 2:33; Rom. 8:34; 1 Peter 3:22).
3. The third occurrence is recorded in Ephesians 2:6, which deserves emphasis. It was a shocking but excellent verse for me when I read it for the first time because it assures us that when we believe in Christ Jesus, we are already with Him in the heavenly places—of course, by faith alone. I have to confess that when I understood this message for the first time, I was literally jumping with excitement. I could not believe my own eyes. I had to read the passage of Ephesians 2:1 to 10 over and over again, and aloud, to be able to believe it. When it rang a bell, I burst into loud praises of our wonderful and amazing God. It was such good news that I had to "dance" with joy. It was so powerful because I realized that I do not need to worry whether I will one day make it to heaven. (By the way, we are never able to make it on our own, because salvation is a pure gift from God.) But I should not be tortured by anxiety and uncertainty about whether I would be saved when Jesus assures me that I am with Him already in heaven!
The phrase that I never saw before and intrigued me so much, nor have I ever heard even one sermon on it, was the following: "But . . . God, who is rich in mercy, made us alive with Christ even when we were dead in transgressions. And God raised us up with Christ and seated us with him in the heavenly realms in Christ Jesus" (Eph. 2:4–6, NIV, italics supplied). This is a reality we grasp and enjoy by faith.
The sequence of thoughts in this biblical passage is crucial. Paul first underlines that we were dead in our sins (vs. 1), and thus condemned to eternal death. However, a divine "but" is used at the beginning of verse 4 to reverse this fate, and God had mercy on us and out of love He died for us. This amazing grace we did not deserve. By accepting Jesus Christ as our personal Savior, we have been resurrected to a new life in Him because He made us alive. The same Creator who made everything out of nothing during creation week, and who brought Jesus back to life, makes us alive in Him. What a wonder! A true miracle! Thus, those who were dead are now alive; those who accepted Jesus Christ as their personal Savior are resurrected to eternal life. Astounding reality experienced by faith.
This excellent news is that we are saved by the grace of God through faith in Jesus Christ. The following simple illustration demonstrates what Christ means to the repentant person. We sinners are like a paper upon which are written our many sins. Jesus Christ is represented by a Bible. As sinners, we have heard the good news about our loving, gracious, and holy God, and we are attracted to Him by His goodness, kindness, faithfulness, and love toward us. We see His beauty, perfection, and tender care. We accept Him as our Creator and Savior; we respond to His grace. This is why we are coming to Him as we are. And if we come to Him, and we confess our sins openly, sincerely, and honestly, "he is faithful and just to forgive us our sins and to cleanse us from all unrighteousness" (1 John 1:9). He accepts us 100 percent, without any reservation, and we are in Christ hidden in Him just as the paper can be placed inside the Bible, totally concealed within the Bible. We are thus entirely covered by the white robe of His righteousness. This means that His righteousness is our righteousness, His purity is our purity, His perfection is our perfection, His character is our character, and we are seen by the heavenly Father as if we had never done anything wrong.
The best explanation of this miracle of forgiveness and salvation is described in the book Steps to Christ: "If you give yourself to Him, and accept Him as your Saviour, then, sinful as your life may have been, for His sake you are accounted righteous. Christ's character stands in place of your character, and you are accepted before God just as if you had not sinned."2 Moreover, when the heavenly Father looks upon us, He does not see us sinners, but He sees His beloved Son Jesus Christ. We are well hidden in Him (Ps. 31:20; 32:7; 143:9; Zeph. 2:3) just as paper inside the Bible cannot be seen. We are safe in Him.
This "in Christ" motif is a dominant thought in the Pauline writings. We have everything "in Christ" (Rom. 3:22; 8:31; 12:5; 1 Cor. 1:2, 4, 30; 4:10, 15). Salvation in Jesus is irreplaceable (Acts 4:12) and done once for all (Heb. 9:27, 28). We are unable to add anything to it or to improve it. Everything in our lives depends on our relationship to God, which is built on our gratitude for what He has done for us (Rom. 5:1, 2; 8:1; 1 Cor 1:30). The marvelous deeds of God climaxed on the cross of Jesus (1 Cor. 1:18, 22–24). Our relationship to Jesus, therefore, decides our eternal destiny (John 16:9).
Amazing grace is at the same time transforming grace. We are not only considered by God without any blemish and spot (Eph. 5:27; Col. 1:22; 1 Tim. 6:14) and perfectly covered by His blood, but also the power of His Spirit and Word is changing us so that we can gradually reflect His perfect character more and more (Rom. 8:4; 12:1-2). We are sealed by the Spirit of God to eternal life (Eph. 1:13; 4:30). Those who believe in Jesus have eternal life now (John 3:16, 36; 11:25; 1 John 5:13). We are born into the family of God; we are sons and daughters of God (John 1:12, 13; 1 John 3:1). We are already citizens of God's kingdom (Phil. 3:20). We grow in Him as we daily walk with Him (Micah 6:8; Col. 2:6; 1 John 2:6; 2 Peter 3:18). Jesus Christ came to save us from our sins (Matt. 1:21) so that sin no longer has power in our lives (Rom. 6:6). Consequently, we fight a good fight of faith (1 Tim. 6:12). God's love leads us to making right decisions. It is God who gives us the strength to actually do God's will and to live in harmony with the will of God; we become more and more like Him (Eze. 36:26, 27; 2 Cor. 3:18; Phil. 2:13).
When we are in Christ, we are already in heaven, seated with Him on the right side of the Father. Paul explained this in the previous passage: "[H]e [the Father] raised him [Jesus] from the dead and seated him at his right hand in the heavenly places" (Eph. 1:20). This means that we not only have eternal life, but that we are in heaven already, seated with God on His throne in the heavenly sanctuary (Heb. 8:1, 2; 4:26; 6:19–20; 12:22–24).
What a privilege, what a place, what a position! On the throne with Jesus. Incredible. Marvelous. Could anything be better? The throne is a reality but at the same time a symbol of Jesus's victory and authority. He reigns, and all who are saved reign with Him. When we are in Christ, we do not need to worry about our salvation or the judgment but only to walk and rejoice in it (Isa. 35:4; 1 John 2:28; 4:17).
We need, of course, to understand the dynamics of this biblical truth in healthy tension between "already" and "not yet." We "already" have all of it (we live in the kingdom of grace), but, in reality we need to wait for the second coming of Christ to encounter Him, receive eternal life, and actually be seated with Him on the throne (Rev. 3:21). His kingdom of glory is "not yet" here. Because God's victory and His coming are so certain, we already have everything in Him now. We live this. Salvation in Christ is already complete, and in due time it will be completed. It is only a matter of time when it will happen physically, when we will see Him face to face and stay with Him forever. We experience this paradox in faith—already in heaven but not yet seeing Him face to face! What we have now is a foretaste and anticipation of the reality we will receive in fullness at the second coming of Jesus.
4. The fourth text that mentions the phrase "heavenly places" is in Ephesians 3:10: "His intent was that now, through the church, the manifold wisdom of God should be made known to the rulers and authorities in the heavenly realms" (NIV). By our lives and actions, we preach to the spiritual beings in heaven. We are the theater for them (1 Cor. 4:9), and they learn how God deals with sin and sinners—and how He saves.
5. The last, and fifth, verse that speaks about heavenly places is Ephesians 6:12: "For we do not wrestle against flesh and blood, but against the rulers, against the authorities, against the cosmic powers over this present darkness, against the spiritual forces of evil in the heavenly places." There are also evil spiritual powers and beings, and against them we are powerless unless we are connected with Christ (John 15:5; Phil. 4:13). We need spiritual armor to be victorious and to defeat hostile Satan's attacks (Eph. 6:10–18).
Today we may have the assurance of salvation in Jesus Christ. Every time I think about what Christ is doing for us, I praise and glorify our awesome God. The more I understand His love toward us, the more I stand in awe before Him, and I want to follow Him because He is so good. God's grace is amazing, and we can marvel at it because His grace transforms people. When God saves, He saves perfectly.
We need to come to the throne of grace every day (Heb. 4:16; 7:25; 10:19–23) and set our hearts and minds on the things above (Col. 3:1–4; Heb. 12:2). Because we are saved by the grace of God in Jesus Christ through faith (Eph. 2:8), there are ethical consequences—we are now "created in Christ Jesus for good works, which God prepared beforehand, that we should walk in them" (vs. 10). We are saved by faith alone, but faith will never stay alone.
God's grace works in the lives of the saved like pregnancy. It works instantly even though it is not visible immediately. It needs time to be tangible. It is the same with God's grace; it transforms, but time is required in order for the whole process to become transparent and the confession of faith visible in the Christian life (this dynamic is theologically called "sanctification"). Paul is certain that no one and nothing on earth or in the whole universe can separate us from such a love of God (Rom. 8:35–39). The final eschatological renewal and transformation begins in our time and space and will culminate and be completed at the second coming of Christ when even our mortal body and sinful nature will be transformed. Then we will be fully like Him (1 John 3:2; Phil. 3:20, 21; 1 Cor. 15:44, 46).
NOTES AND REFERENCES
1. Unless otherwise noted, all Scripture references in this column are quoted from the English Standard Version of the Bible.