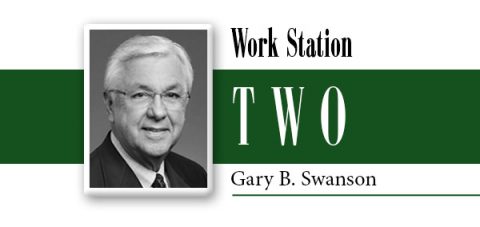 "Can You Hear Me Now?"
Twenty years ago—a full two decades at least—a network-TV commercial was introduced in the early days of the mobile phone. Over the next few TV seasons, a tall, average-looking Everyman appeared in various remote surroundings with a cell phone next to his ear and, in each commercial asked the question of someone at the other end, "Can you hear me now?"
The message of the commercial, produced by Verizon, was to emphasize to users of the growing new technology of mobile telephones Verizon's greater area of coverage. It may seem almost quaint nowadays to be remembering the spottiness of finding a strong phone signal, wherever the caller may be. There are, still, of course, some geographical areas without service. But in today's communicative world, the use of the cell phone is almost universal.
 The question, "Can you hear me now?" however, lives on in everyday language. Occasionally, someone may ask with an ironic look, "Can you hear me now?" And this usually implies no connection—if you will—to the quality of phone connection.
Instead, the question often refers to another, similar question of connection from an earlier time: "Am I getting through?" But in today's meaning it has become metaphorical. It is asking whether someone is being understood, whether a listener is comprehending—or, even accepting—what a speaker is trying to say.
Throughout the Old Testament's story of Samuel, God's prophet, hearing is a frequent theme, both of the literal physical hearing kind and of the metaphorical understanding kind. His mother, Hannah, in fact, named the child "Samuel" because she had "'asked the Lord for him'" (1 Sam. 1:20, NIV). God had heard her prayerful request and fulfilled it.
And the most enduring and endearing childhood stories from Samuel's life recalls the night he received a direct call four times from God. Three times that night Samuel heard his name called in the quiet, lonely darkness, and each time he had responded to Eli, "'Here I am.'" By the third time, Eli, who had not called for Samuel, realized that the boy was hearing from God Himself. He advised him that if he heard the voice again simply to respond directly, "'Speak, Lord, for Your servant hears'" (3:9, NKJV).
At last, after three attempts from God to communicate with His young servant, and it may be noted, the realization of his human mentor, Samuel arrives at discernment. In a spiritual sense, God could have truly asked, "Can you hear Me now?" 
"The rest of the book of Samuel—indeed the entire Bible—" writes Adventist theologian Gheorghe Razmerita, "is about hearing and obeying. or the lack of obedience; at some point, the people stopped hearing God, and thus God stopped hearing them."1 And throughout the rest of Scripture appears so many references to hearing—and, thus, discernment and obedience—that it may well be said to be a major doctrinal issue in maintaining a relationship with the Creator of all through a two-way connection.
The Book of Psalms offers many appeals from the human to the Divine to be heard. "Hear my voice when I call, O Lord: (27:7, NIV). "Hear my voice, O God, in my complaint" (64:1, NRSV). "O Lord, hear my voice! Let your ears be attentive to the voice of my pleas for mercy" (130:2, ESV). But clearly these express no doubt that God hears. They do not in any way suggest that He may be somehow inattentive or ignoring the plea. This is made plain in the many reassurances also included in the psalms: "Evening and morning and at noon, I will complain and murmur, and He will hear my voice" (55:17, NASB).
But there is also a theme that threads through Scripture of hearing in the other direction. Communication is, after all, a two-way process. Not only are there many instances of supplication—and sometimes even complaint—from the human to the divine. There is also the essential need for the human to hear what God is saying.
In his commentary on the Gospel of John, William Barclay outlines several ways in which listening—or hearing—may be challenged. "There are different kinds of listening," he writes. "There is the listening of criticism; there is the listening of resentment; there is the listening of superiority; there is the listening of indifference; there is the listening of the man who listens only because for the moment he cannot get the chance to speak. The only listening that is worth while is that which hears and learns; and that is the only way to listen to God."2
Jesus Himself referred to this in one of His most memorable parables. "'Everyone who hears these words of mine and puts them into practice is like a wise man who built his house on the rock. The rain came down, the streams rose, and the winds blew and beat against that house; yet it did not fall, because it had its foundation on the rock'" (Matt. 7:24, 25, NIV). "It is not enough, [Christ] says, for you to hear My words. By obedience you must make them the foundation of your character."3
There is a very basic principle behind God's attempt to be heard. When He says, "Can you hear Me now?" our response—if there is any—is articulated in how we live. And then there comes His own personal response to that. "'Here I am! I stand at the door and knock. If anyone hears my voice and opens the door, I will come in and eat with him, and he with me'" (Rev. 3:20, NIV).
NOTES AND REFERENCES
1. Gheorghe Razmerita, In the Crucible With Christ, Adult Teachers Sabbath School Bible Study Guide, third quarter 2022, 162.

2. William Barclay, The Gospel of John, Daily Study Bible Series (Philadelphia: Westminster Press, 1975), 1:220.

3. The Desire of Ages, 314.